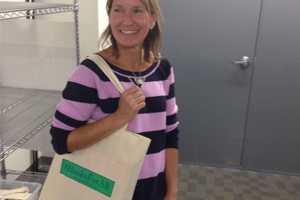 17 Sep

Making Dreams Come True For Forever Families

Bridge of Books Foundation Provides "Little Libraries" For The Hundreds of New Jersey Children Adopted Out of Foster Care In 2015
Bridge of Books Foundation joined with New Jersey's Division of Children and Family Services to support the hundreds of children in New Jersey's Foster Care system who began new lives in permanent loving homes this year by taking part in National Adoption Day celebrations across the State on November 21. Hundreds of children adopted out of Foster Care in New Jersey received a bag of new, age-­ appropriate books from Bridge of Books Foundation to begin their own family library.

Part of a collective effort to raise awareness of the 100,000 children across the nation in Foster Care waiting for permanent loving homes, National Adoption Day has made the dreams of nearly 54,000 children come true. Events all over the country celebrated the adoption of these children, some of whom wait in Foster Care for four years or more for a "forever family. "

Each of New Jersey's 21 counties held events honoring these families and Bridge of Books Foundation took part in each one by delivering a tote bag of new, age-­ appropriate books to every single child, giving these children the chance to begin making new family memories and start their own My Little Library in their new home.

This is not the first time Bridge of Books Foundation has helped families build their own home libraries. In 2012, immediately after Hurricane Sandy, the Foundation jumped into action to try to determine where books would be of assistance in helping children to attain some sort of normalcy in the wake of such a devastating storm. Once children were able to return to school, the Foundation realized that non school- age children were still having to accompany their parents to the FEMA centers and sit, sometimes for hours, while paperwork was completed. To solve this problem, Bridge of Books Foundation created and distributed nearly 300 individual "Bags of Books" to pre-school children in the months following Sandy.

"The feedback was positive – both from the FEMA workers and the parents," says Bridge of Books Foundation Founder and Executive Director Abigail Daly. "So, we kept the "Bags of Books" on hand and kept our ears open for more situations where this type of book distribution would be a good fit. Last year, we received a request to provide "Bags of Books" to kids being adopted in Cumberland County. Needless to say, it was a huge success! We're so excited to build upon the My Little Library program. Books in the home have the power to change lives – providing an understanding of the world, encouraging imagination and promoting dreams."

Statewide Foundations and Corporations have joined in this effort as sponsors of the My Little Library program. The Charles Lafitte Foundation (Brielle) will be a platinum sponsor, and AIG (New York/New Jersey) was a Gold Sponsor. Monmouth University (Long Branch) and New Jersey Natural Gas (Wall) were Silver Sponsors. Sponsorship opportunities are still available for Corporate and Foundation donors.

"We are extremely excited to support Bridge of Books' new 'My Little Library' program," said Kyra Citron, Director of The Charles LaQitte Foundation's Kid's Corner. "I have seen the amazing work of Bridge of Books, and I can't wait to see the smiles on the faces of the children as they recieve the gift of great books to share with their new forever families!"

Individual support was also received from members of the community through purchases of books from an Amazon wish list created by Bridge of Books for this event.

Founded in 2003, the mission of the Bridge of Books Foundation is to provide an ongoing source of books to underprivileged and at ­‐risk children throughout New Jersey in order to support literacy skills and to encourage a love of reading. So far in 2015, over 100,000 books have been donated to children across the state, taking the grand total of books donated to almost 600,000 over the last eleven years.