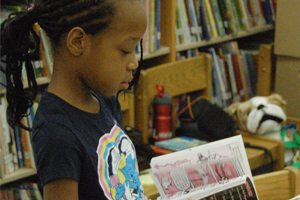 29 Nov

The Gift of Literacy

As the 2015 holidays approach, we have so much to be thankful for at Bridge of Books. This year we distributed 110,000 books across the state – crushing the 73,000 books we distributed in 2014. This means that roughly 45,000 underserved children across New Jersey now have books to call their own. Our successes this year are a direct measure of the expanding support – both corporate and individual – that we receive from members of the community all across New Jersey.

Despite our successes, getting books into the hands of New Jersey's underserved children is now more important than ever. Alarming statistics continue to flood the media regarding poverty in our state. According to a 2014 report from Kids Count New Jersey, "roughly one-third of New Jersey children live in families earning too little to meet their needs."

Where do books fall into the equation when a family is deprived of safety, food, clothing, housing, health care, or other essentials? The truth is, they don't. Children living in low-income communities do not have the same access to books as children in middle-income communities.

Access to books is a critical key because the number of books in a home can be a better predictor of a child's educational achievement than the parent's own educational level. (Research in Social Stratification and Mobility, Evans et. al. 2010). This finding makes access to books for children in low-income communities even more critical.

What hope is there for children whose basic needs can't be met to develop strong literacy skills, obtain a good education and job that will enable them to lift themselves up out of a life of poverty?
We see such hope in the letters of thanks that we receive every day from the children and educators who are impacted by the books we donate:
Your mission comes to life in Trenton and our kids can now read for pleasure, build their self-efficacy and reading confidence. Without your support, many of our students would not have access to books. Kids can enjoy books at home now, begin to build a personal library, and a love of reading.
                                                                                                            – George Benton, Trenton Public Schools
Thank you for sending us and giving us books. Reading is now kinda cool.

                                                                                                  – Howard, 2nd Grade
Access to books is the one piece of the puzzle that can bring a lifetime of joy and learning. In this season of thanks and hope, we are grateful to those who have helped us reach our goals, and are hopeful that soon all children in New Jersey will have many, many books to call their own.