26 Apr

The IMPACT of volunteering – a MOM's perspective

Christine Baugh is a long-time Bridge of Books volunteer and the author of our 2nd IMPACT post.  As we mentioned earlier in the year, these posts are a way for us to present different voices on the IMPACT of our mission.  We see these contributions as a way for us to share more of the Bridge of Books story – who we are, what we do and what it means to the community around us.   Our growing success at getting more books into the hands of more kids across New Jersey every day is the direct result of the amazing support that we receive from all of our volunteers.  Christine shares her thoughts  on what being a part of our mission means to her.

I moved to Monmouth County from London with my family three years ago, where I had been involved as a volunteer for another not for profit organisation. I was looking for another volunteering opportunity and not long after having settled in, I was introduced to The Bridge of Books Foundation by a friend.

There is so much hardship in the world and sometimes I feel powerless to do anything about it. Volunteering at Bridge of Books makes me feel that I am least making a small difference to the life of a child in my neighborhood. By putting books into the hands of young people who need them across New Jersey, we are helping to open their minds, increase their levels of literacy and maybe even spark a vision of possibility.

As a sorting supervisor, I help organize the books for distribution to kids throughout New Jersey. I meet so many different kinds of volunteers, which I love – no two days are the same. As a mother of teens, my book sorting sessions are an opportunity to escape the world of technology, and enter into a nostalgic and sentimental journey through beautiful board books with their colorful illustrations and imaginative prose.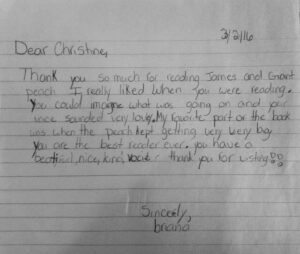 Each year, as part of the Read-Across-America program, we visit schools in Keansburg, Freehold, Asbury Park, Red Bank and Neptune City. We bring along book donations for the kids to take home and keep and organize volunteers to read to the children in their classrooms. The letters of thanks that we receive always make my day!
I have entered The Bridge of Books at an exciting time. With the generous support of the local community, book donations and volunteers I truly believe we can make a difference.