11 May

Bridge of Books receives 2017 INNOVATIVE PARTNERSHIP AWARD

On April 26, I had the opportunity to travel to Atlantic City to attend this year's NJ State Library conference.  Bridge of Books was recognized for partnering with the Long Branch Free Public Library and 5 Long Branch barbershops to launch the Fade to Books literacy initiative in 2016.  Here's what the award pamphlet had to say:
"This year we chose to recognize Long Branch Public Library's Fade to Books  project, and their partnership with the Bridge of Books Foundation and five barbershops located in their community.  Each partner wanted to do something to support literacy development in the young people in the community, recognizing that the ability to read is one of the foundations of a successful life.
The program recognizes the role of the barbershop as a community gathering space and the role of the barber as a mentor.   It places books in the barbershop for kids to read when they come in for a haircut.  The library and their partnering barbershops determine additional ways to encourage reading and potential incentives, such as tracking the number of books read to earn a free haircut.
Five Long Branch barbershops joined the initiative – Dave's Barbershop, Elite Barbers, Heads Up Barbers, Montalvo's Barbershop and Shaav Barbershop – along with Monmouth University Interns and the Bridge of Books Foundation.
The Bridge of Books donated over 1,000 children's books, 250 for each barbershop, which made the program possible."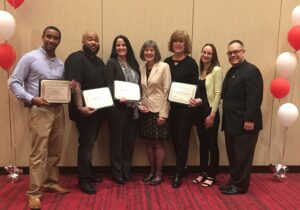 In addition to accepting this honor, I also participated in a panel about the Fade to Books initiative with Tonya Garcia, the Long Brach Librarian, two of the Long Branch Barbers and David Perez, a graduate level social work intern from Monmouth County.   We talked about how the knowledge and resources that each partner brought to the table fit together to get the books into the barbershops for the kids in a meaningful way.  Listening to the barbers talk about the extremely positive impact of the books on the boys (and girls) they serve was truly inspirational.
My two "take homes" from the day?
First, a deep gratitude to the Bridge of Books' community.  Our ability to expand our reach every day to get more books to more kids who need them and to enter into partnerships like this one is the direct result of the tremendous support that we receive from YOU, our community.
Second, the reinforced conviction that closing the gap in access to books is and will always be about communities and how they work together – to recognize the problem, decide how to meaningfully address it and, most importantly, try to overcome it.
After all, it takes a village to raise a child.
~Abby Daly, Founder & Executive Director